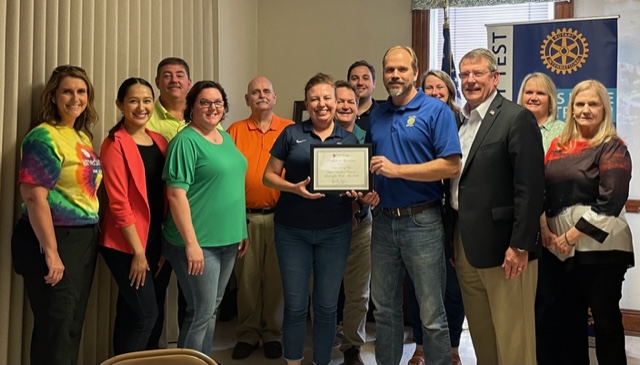 06 Jun

Dayton Chamber Member of the Month
Our June 2023 Dayton Chamber of Commerce Member of the Month is Dayton Rotary Club
Congratulations to the Dayton Rotary Club for being nominated and elected the DCOC June 2023 Member of the Month. The Dayton Rotary Club has been in Dayton for over 50 years and the Rotary Club organization has been around since 1905, started by Paul Harris in Chicago. The Dayton Rotary Club has been an active member of the DCOC since 2002.
The current Dayton Rotary Club President, Nate Lorenzen was recently asked, exactly what type of business is the Rotary Club and what services are provided? Dayton Rotary Club funds $8000 in high school and college scholarships. DRC sponsors the Daddy Daughter Dance, an annual golf tournament, the TSF pancake breakfast and all those proceeds go towards the scholarship funds. Rotary also assists with Give a Kid a Chance and distributes dictionaries to 3rd graders in addition to participating in the eradication of polio.
Nate commented the most surprising thing about the Club is how engaged the members are with all the activities. The club hosts/sponsors about 6 events a year, so member participation is key and appreciated. The best thing about the club is knowing you are a small part in supporting students of this community and higher education.  The hardest thing about the club is seeing long time members age out of the club and take along their knowledge and dedication.
Nate said there are no new projects on the books at this time, but they are always looking at ways to raise additional funds for scholarships. Nate also commented the clubs focus and goal is 100% dedicated to supporting the youth in this community and helping them achieve their personal goals and future dreams.
In his final remarks, Nate stated "anyone can join the Rotary Club and make a difference. It is very rewarding and a chance to improve our community and serve worldwide. To find out more, visit rotary.org".
The Dayton Rotary Clubs meets each Friday at 12:00pm at the First United Methodist Church on Market Street in Dayton, TN.